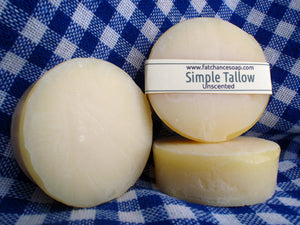 For soap, salve and deodorant with worldwide shipping, head to our soap shop! Natural lard and tallow soaps and salves are made with fat from pastured animals. Our natural deodorant is based on mineral magnesium which is gentle and effective.
Shop Soap
Local Orders
Head over to our farm store for local delivery and pick-up options for all of our products! Eggs, chicken, and soap products are typically available year round. Fresh vegetables can be found from mid-June until October.
Farm Store
Farm and Soap Updates
I am not a great memorizer of quotations or poetry but there are a few turns of phrase that really do stick in my head. At the moment it is...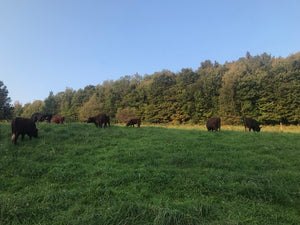 Autumn comes early most years in Vermont. We had our first very light frost yesterday, can you see the tiny frost crystals on the grass? As someone who raises livestock...
Minimizing Waste
As more people recognize the ability of pastured animals to sustain and regenerate our soils, the more demand there is for grass-fed beef and forest-raised pork. But while a grass-fed steak is an easy sell, tallow and lard may linger in farmers' freezers, unsold. 
At Fat Chance Farm we take these fats and turn them into useful products that naturally nourish your skin. This way, what was once a waste product becomes something valuable that farmers can sell.
At Fat Chance Farm we are also dedicated to minimizing waste in our production and packaging. We ship our products without plastic and offer the "no label" option on all of our soaps. You can also try our our Thrifty Soap which is made from our soap scraps.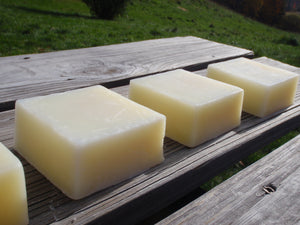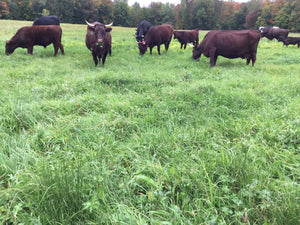 Regenerating the Soil
The steep, rocky hillsides of Vermont just aren't cut out for acres of monotonous row crops and bare soil. To see these landscapes truly thrive under human care, carefully managed animals are a must.
Only a few years ago, many of our own hilly pastures were a manicured lawn of stunted grass and compacted soil. It is a real joy to watch those same pastures come to life after only a few seasons of grazing cows and pooping poultry!
Our vegetable garden follows the "no dig" philosophy. Instead of tilling up bare soil, we mulch with wood chips and fertilized with plenty of cow and poultry manure.