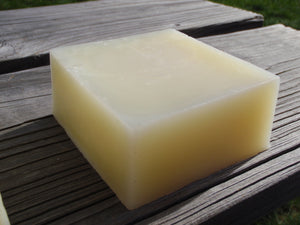 A question that I've been getting more and more frequently over the past few years is, "can I use your soap as shampoo?" I give the most honest answer I can, which is that I know many customers who use my soap as shampoo and it seems to work well for them. I actually feel pretty out of touch with the shampoo bar revolution, mainly due to the fact that, well, I don't use shampoo!  A Personal Hair Washing History Sometime back in the mid aughts I heard about an intriguing concept called the "no 'poo" method of hair washing....
---
I've been making our "Farmer Pits" Natural deodorant for about seven years now but it feels like it's only in the past 2-3 years that I've gotten the recipe really polished. In the early days I experimented with baking soda before discovering the amazing non-irritating and excellent odor eliminating properties of magnesium hydroxide. The most recent big change was switching from beeswax to candelilla wax a few years ago. The problem with beeswax was that as I used it at higher rates to try and keep the bar solid in hot summer temperatures, the bars started to feel very sticky...
---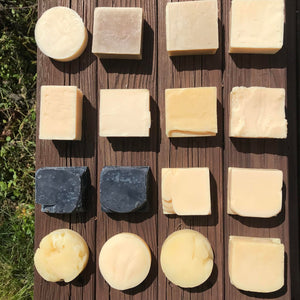 Soap as Art A bar of soap can be a remarkable art form. Have a quick glance around the internet looking for fancy, quirky, and detailed soaps and you will see the amazing artwork that soap makers are capable of! Alas, I do not count myself among these soap maker artists. Without wishing to cast even the smallest of aspersions upon those who do raise soap making to an art, my goal has always been to make a simple, functional bar of soap that almost anyone can afford to buy regularly. Functional Soap When I photograph my soap for the...
---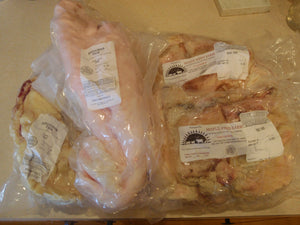 Animal fats are far less common in our daily lives than in the past and in recent decades there has been a push to remove them from not only our diets but from our skin products. The result is that most people today are not very familiar with the different types and uses of animals fats. Did you know that prior to the widespread use of petroleum products, animal fats were used for anything from candles to axle grease, not to mention forming an important part of the diet. Here at Fat Chance Farm, we are, of course, big proponents of using...
---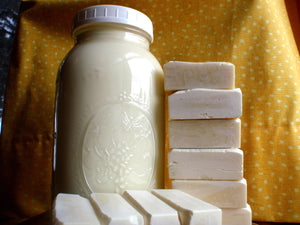 I am sometimes asked if I make goat milk soap and the answer is no, in fact I make cow milk soap! I'm not quite sure when and why goat milk became the "go-to milk" for soap making but you can make soap with any kind of milk (or any kind of water based liquid really!) The only soap I currently make with milk is my Milk and Maple Soap. Both cow and goat milk contain fats, vitamins and minerals that are great for the skin and that make a bar of soap more moisturizing. The cow milk I use...