• farming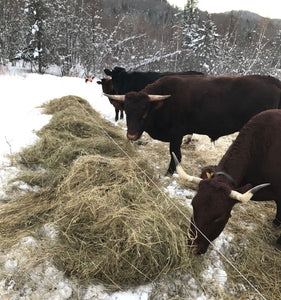 The downside of farming in Vermont, especially farming that is focused on rotational grazing, is that 4-6 months of the year we have snow on the ground! Since I installed permanent fencing several years ago, I've been enjoying the ability to "graze" the cows on hay for a good part of the winter season. Here's how my system works. After grazing wraps up sometime in October, the cows head back to cow shed area to eat hay bales in the "sacrifice pasture". That means that this small area will get churned up, over grazed and muddy but all the other pastures...
---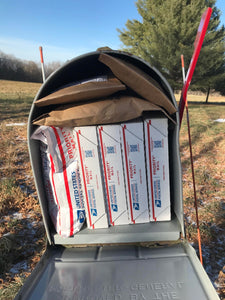 The orders are really rolling in now for the holidays and I just wanted to thank all our customers, new and old, for supporting a small business! I also thought I'd give you a little insight into how we do shipping and manage soap pre-orders, so if that interests you, read on. For starters, when I say small business, I mean it. I currently have no employees, so marketing, shipping, manufacturing and admin is all one person (aside from the occasional family member drafted in to manage the accounting!) I do hope to grow beyond that some day but that is...
---
I've been making our "Farmer Pits" Natural deodorant for about seven years now but it feels like it's only in the past 2-3 years that I've gotten the recipe really polished. In the early days I experimented with baking soda before discovering the amazing non-irritating and excellent odor eliminating properties of magnesium hydroxide. The most recent big change was switching from beeswax to candelilla wax a few years ago. The problem with beeswax was that as I used it at higher rates to try and keep the bar solid in hot summer temperatures, the bars started to feel very sticky...
---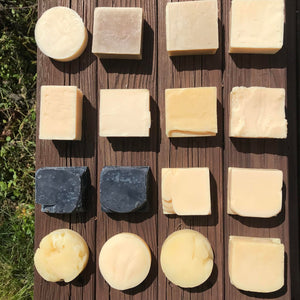 Soap as Art A bar of soap can be a remarkable art form. Have a quick glance around the internet looking for fancy, quirky, and detailed soaps and you will see the amazing artwork that soap makers are capable of! Alas, I do not count myself among these soap maker artists. Without wishing to cast even the smallest of aspersions upon those who do raise soap making to an art, my goal has always been to make a simple, functional bar of soap that almost anyone can afford to buy regularly. Functional Soap When I photograph my soap for the...
---
• recipes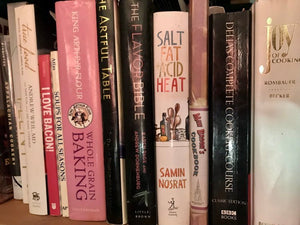 I don't often share recipes here since following them is generally confined to baking in our household. Both my partner and I have a similar method of cooking where we poke around in the fridge for a few minutes to see what veggies we have and what meat is thawed, maybe look at a few recipes online or in cookbooks for inspiration and then proceed to fly by the seat of our pants! So this is less a recipe and more some general guidelines for putting together a quick tasty meal with whatever you have on hand. Ingredients: 3 tbsp....