• farming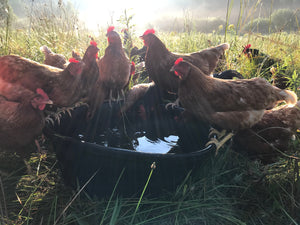 Anyone who's ever had chickens has seen the origins of the term "pecking order" first hand. Pecking and flapping at each other is pretty normal behavior for chickens, both hens and roosters, but in its extremes it can lead to severe injury and cannibalism. So let's talk about how to avoid this and also what to do if you have a severely "hen-pecked" chicken. Breed Choice At least some level of chicken aggression is tied to genetics. Breeds described as "nervous, restless and active" tend to have more aggressive tendencies, while "docile, calm, easily handled" birds are less likely to...
---
• farming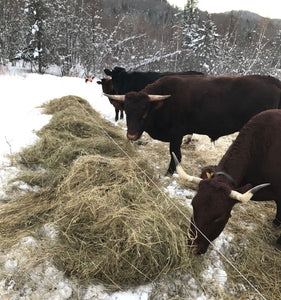 The downside of farming in Vermont, especially farming that is focused on rotational grazing, is that 4-6 months of the year we have snow on the ground! Since I installed permanent fencing several years ago, I've been enjoying the ability to "graze" the cows on hay for a good part of the winter season. Here's how my system works. After grazing wraps up sometime in October, the cows head back to cow shed area to eat hay bales in the "sacrifice pasture". That means that this small area will get churned up, over grazed and muddy but all the other pastures...
---
• farming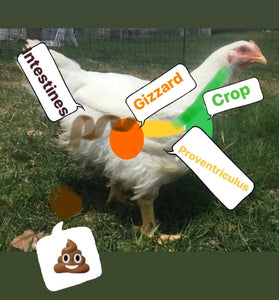 Skip to: Chicken Digestion Goose Digestion Further Reading Cow Digestion As people learn about the benefits of grass-fed beef they often wonder if the same principle can be applied to other farm animals, which then leads to the question: Do your chickens eat grain or are they also grass-fed? To fully answer that question (and if you don't want full and detailed explanations, you should probably stop reading my blog posts!) we have to first understand a bit about animal digestion. The cow is a ruminant. This means that it has a system of stomachs (four in this case) which...
---
• farming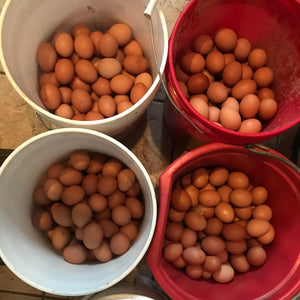 Around the beginning of March I got one of the first signs of spring on the farm (the real first sign was back in February when last summer's young female calves went into heat for the first time and started bellowing and making well, cow-eyes, at the bull from over the fence) which is a rising tide of eggs! I do provide supplemental light for my hens in the winter but with the bitter cold we often experience in Vermont, they expend a decent amount of energy in the winter staying warm, so production drops. I could provide them with...
---
• farming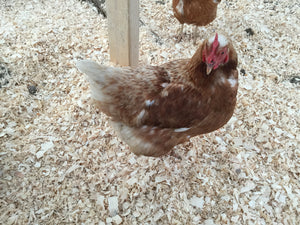 Raising pastured laying hens in Vermont means that at some point in the year, your pastures will inevitably be blanketed in snow and temperatures will drop. So, during the coldest part of the year, my chickens, ducks and geese retire to the "poultry palace".  The set-up is oriented to best block winter winds. (The black fabric is a windbreak) I don't use heat lamps on the birds in the winter, so I rely on making their area snug but well-ventilated. Damp air is what leads to frostbite in chickens. Probably the biggest downside to winter, in the chickens' point of...