• farming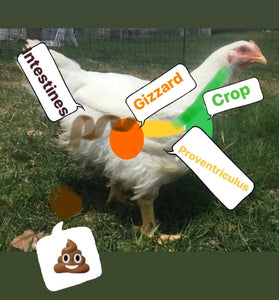 Skip to: Chicken Digestion Goose Digestion Further Reading Cow Digestion As people learn about the benefits of grass-fed beef they often wonder if the same principle can be applied to other farm animals, which then leads to the question: Do your chickens eat grain or are they also grass-fed? To fully answer that question (and if you don't want full and detailed explanations, you should probably stop reading my blog posts!) we have to first understand a bit about animal digestion. The cow is a ruminant. This means that it has a system of stomachs (four in this case) which...
---
• farming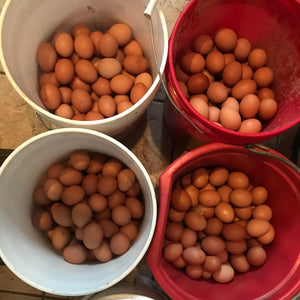 Around the beginning of March I got one of the first signs of spring on the farm (the real first sign was back in February when last summer's young female calves went into heat for the first time and started bellowing and making well, cow-eyes, at the bull from over the fence) which is a rising tide of eggs! I do provide supplemental light for my hens in the winter but with the bitter cold we often experience in Vermont, they expend a decent amount of energy in the winter staying warm, so production drops. I could provide them with...
---
• farming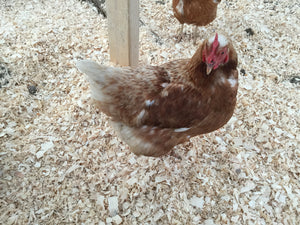 Raising pastured laying hens in Vermont means that at some point in the year, your pastures will inevitably be blanketed in snow and temperatures will drop. So, during the coldest part of the year, my chickens, ducks and geese retire to the "poultry palace".  The set-up is oriented to best block winter winds. (The black fabric is a windbreak) I don't use heat lamps on the birds in the winter, so I rely on making their area snug but well-ventilated. Damp air is what leads to frostbite in chickens. Probably the biggest downside to winter, in the chickens' point of...
---
• farming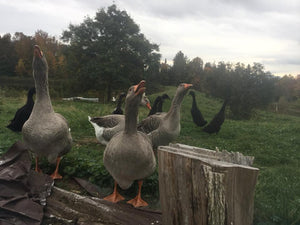 Growing up, I was only familiar with the ubiquitous Canada Goose. They lounged on golf courses and the stubble of harvested corn fields, they chased unsuspecting children away from their nests with a surprising lack of fear for a wild animal. I really didn't think much about them at all. Then I decided to get a few geese with my order of layer ducks from a hatchery. I like duck antics, I like duck eggs and meat, I figured I would like geese too. But no. I LOVE geese. Our geese are not imprinted on humans, which means they have...